Ron & Nita's is part of a great tradition of shoe stores located on the northeast corner of Main Avenue and Court Street in downtown Sidney. Once owned by the Burkhart family for 99 years (from 1864 until 1964), the store was purchased by Robert J.Kaser from Marcie Wolaver, a granddaughter of one of the Burkhart brothers. Ron McCrum became manager of the store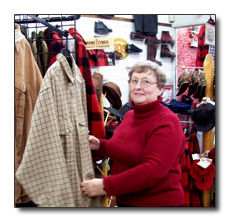 that was then known as Kayser's Shoes.
In 1978, Ron opened a work clothes store in the downstairs portion of the shoe store for Kenneth Kaser, a son of Robert J. Kaser. Ron operated both stores until 1986 when Ron and wife Juanita purchased both businesses. Ron & Nita's is currently recognized as the longest continuous location of a shoe store in the state of Ohio.
In 1986 the clothing store was moved upstairs and expanded to carry not only work clothes but also casual men's wear in sizes from small to 8X big and tall. We carry a full line of name brand shoes for the entire family. Besides having a very large inventory of products in stock, we are also willing to special order items directly from our manufacturers.
We invite you to stop by and talk to our experienced, friendly staff about your shoe or clothing needs. They are always ready to help you find just what you're looking for. Our staff is experienced in measuring feet for that comfortable custom fit.